As Toronto Wedding Photographers, we've had the pleasure of being a part of the most stunning, elegant weddings this city has ever seen. Over time, we've become experts on what it takes to plan a luxury wedding that meets every desire for your special celebration.
From your wedding venue to your dress, and from florals to catering, we've compiled a comprehensive list of steps to help guide you through the wedding planning process. It's your wedding, and you deserve a top-tier experience you will remember for a lifetime.
Keep reading to discover everything you'll need to know to plan your luxury wedding in Toronto.
We Should Have Called It The Toronto Wedding Photographers Guide to Making Your Wedding Planning Easier
Why did we—two Toronto wedding photographers—create a whole guide on planning a wedding? The answer is simple: we truly want your wedding planning experience to be as seamless as possible. This is reflected in exactly how we treat our clients. There's no length we won't go to in ensuring they feel taken care of from the moment we connect.
We created this blog to make your life easier. Wedding planning is hard enough, but why make it harder than it has to be, right? If you decide you don't need this guide, you're seriously missing out. Throughout this guide, we've tapped into our experiences as Toronto Wedding Photographers to highlight some of the most talented and sophisticated professionals in the industry. We hope you'll stick around to meet them.
It's time to dig into the steps of planning every element of your gorgeous wedding.
Step 1: Pick Your Luxury Wedding Venue
Before you do anything else—including booking other vendors, tasting hors d'oeuvres, or planning your floral arrangements, it's imperative you choose your wedding venue. Your wedding venue has the potential to influence a lot about your wedding because finalizing your venue plans locks you into a particular date.
It's possible this date could conflict with the other vendors you plan to hire—like your musical entertainment or photographer—so always choose and book your venue and date first. Plus, your venue may offer in-house services for catering and planning, which you may also want to consider utilizing for your upcoming wedding.
Now it's time to talk about the best wedding venues Toronto has to offer.
The Omni King Edward Hotel
The Omni King Edward Hotel is well known as a luxury wedding destination in Toronto, and for good reason. This heritage hotel has been completely upgraded with modern luxury, making for a truly regal-feeling experience in event spaces, rooms, and amenities. This venue boasts multiple spaces for your wedding so you can create the experience you truly want for your wedding.
Graydon Hall Manor
We hardly know where to start describing Graydon Hall Manor, but if we had to choose one word we would call it sophisticated. At this venue, you could spend your elegant wedding clinking champagne glasses as you celebrate on a terrace overlooking formal gardens and stunning fountains before moving indoors to continue your celebration in the grand dining room. The atmosphere Graydon Hall Manor offers for a wedding is next level! If that's what you're looking for, check it out.
Malaparte
Of all the Toronto wedding venues, Malaparte is a modern space that's sure to make an impression on your guests. There's shimmer, elegance, and a stunning view you and your guests can enjoy from the rooftop terrace and the outdoor amphitheatre. It's a bright space with a beautiful cityscape backdrop, and we love it.
Shangri La
If you envision a wedding that's exquisitely modern, memorable, and distinct, The Shangri La Hotel in Toronto might be the perfect venue for you. With several different stunning event spaces to choose from, you're guaranteed to be able to curate an event that accurately reflects you. In the summer, you can take advantage of their garden terrace and enjoy stunning downtown views during your cocktail reception. This Toronto venue truly offer all the options and services for a truly refined wedding.
Step 2: Lay Out Your Plan (or Hire A Toronto Wedding Planner)
There is a lot of time and energy that goes into planning a wedding, so it definitely helps to have the right support to keep you on track. Perhaps you are happy to take the reins and simply need the right guide to keep you on track. Or maybe you are looking for a professional wedding planner in Toronto to walk with you through the process.
Either way, you don't have to walk through the planning process empty-handed. Here are some solutions that might help you.
The Wedding Book by Mindy Weiss
If you're looking to take the reins on your wedding planning, equip yourself for a seamless planning process with The Wedding Book. This tried-and-true planner gives you a step-by-step guide to help you plan your wedding—and it doesn't miss a beat. Keep this handy while you plan your luxury wedding in Toronto.
Chic by Nicole
You want a refined, fashionable experience at your wedding, and Chic by Nicole knows exactly how to bring your stunning vision to fruition. Specializing in luxury wedding planning, Chic by Nicole has been hailed as one of the Top Wedding Planners worldwide by VOGUE Magazine and BRIDES.co. Elevate your wedding by hiring Chic by Nicole.
Rebecca Chan Weddings & Event
There's a lot that goes into planning your wedding, and the professionals at Rebecca Chan Weddings & Events want to make the process as easy as possible for you by taking care of the schedule, logistics, decor, and more. Nothing is missed by Rebecca and her team as they work to create a beautifully styled wedding that exceeds your expectations.
Classy Affairs
No one says it better than the Classy Affairs team themselves: They're "luxury wedding planners ready to design the day you've always dreamed of". We love it when a planner is clear and concise about their mission. If you want the wedding of your dreams without the stress of planning, connect with Classy Affairs and see how they can support you.
Step 3: Choose Your Officiant
If you're getting married in Toronto, you're going to need an officiant. If you don't have one in mind already, we have a few suggestions for you.
Enduring Promises
Why have a typical wedding ceremony when you can have a personalized, engaging one? The professionals behind Enduring Promises take into account all your desires and whims so you can have a wedding ceremony that reflects the unique love between you and your partner.
Forever Ceremonies by Manny
Reverend Emanuel Maiato, known to most as Manny, ensures you meet all the legal requirements for your wedding ceremony in a way that fits your style effortlessly. If you want a ceremony that's touched with authenticity and emotion, reach out to Forever Ceremonies by Manny.
Step 4: Find Your Perfect-Fit Toronto Wedding Photographers
The first step to finding the right photographer for you is getting to know them. A wedding photographer spends a lot of time with you on the day of your wedding, so you want to ensure your personalities are a good fit. And of course, you'll want to be head over heels with their photography style too.
A little about us at FLOFOTO: we take your wedding photography seriously—and there's nothing we won't do to document your wedding in the most heartfelt, authentic way. But we don't take ourselves too seriously, and we like to have fun! We've been working together as Toronto photographers for 10 years, and we love it more every day. We're passionate about capturing the delicate details and subtle gestures we come across on your wedding day.
Step 5: Say Yes to Your Luxury Wedding Dress or Wedding Suit
Choosing your wedding dress is an incredibly important part of the planning process. Your perfect dress will make you look and feel amazing and allow you to feel elegant and utterly refined. We recommend these particular wedding dress designers and boutiques because they specialize in bringing you the luxury wedding dress of your dreams.
Valencienne
At Valencienne, they pour their heart and soul into every dress they create. They've been designing beautiful wedding dresses for over 30 years—a true testament to the fact they love what they do. All you have to do is make an appointment, and they'll guide you through the rest with exceptional service to find your bespoke luxury wedding dress.
Grace Loves Lace
Grace Loves Lace is a boutique bridal studio in Toronto that offers more than just a gorgeous assortment of unique dresses. They bring you a luxurious wedding dress buying experience. Your stylist will accompany you to your own private suite so you can peruse dresses at your own pace and find the dress that makes you feel and look as extraordinary as you are.
Ines Di Santo
If you're looking for sophisticated glamour in your wedding dress, look at designer Ines Di Santo's wedding dresses. Their flagship location is right in Toronto, and collections are released twice per year. Check out the latest collection—it sincerely takes our breath away.
Empire Customs
The team at Empire Customs elevates the customer experience to a new level, offering in-person, private consultations in their Wedding Lounge or virtual consultations. They genuinely go the extra mile to meet your needs and fit you with a tailored wedding suit with the perfect looks and fabrics to suit your style and personality.
Garrison Bespoke
There's a reason so many people flock to Garrison Bespoke for a luxe wedding suit or wedding tuxedo buying experience. First, they're located right inside the aforementioned (and totally iconic) King Edward Hotel. They collaborate with the same heritage mills that supply the most luxurious brands like Tom Ford and Burberry. When you shop at Garrison Bespoke, rest assured you'll walk away with an amazing fit for your wedding and a top-level experience you'll look back on fondly.
Step 6: Choose Your Toronto Wedding Florist
Florals are a critical part of setting the scene for your stunning wedding. These florists are known for creating upscale arrangements to add to the impeccable atmosphere of a luxury wedding. They're also known for their exceptional service and attention to detail.
Bloomberry & Co
Bloomberry & Co is the place to go for breathtaking wedding floral arrangements. Whether it's the stunning oversized wreaths that catch your eye or intricately draped table arrangements that match your style, they can create a look that adds to the ambiance of your wedding in the most sophisticated ways. Bloomberry & Co will add every final touch of floral, and it will totally floor your guests.
Blush & Bloom
We could spend hours perusing the gallery of Blush & Bloom's florals as displayed in real, totally jaw-dropping weddings. From subdued pastels to punches of colour, they approach every wedding as a unique event. They bring a high-level of collaboration to their work as Toronto wedding florists to help bring your vision to life.
Step 7: Find the Best Toronto Wedding Vendors for Your Music, Catering, and More
At this stage, it's time to finalize the other professionals you're ready to bring onboard for your wedding. This includes the right music, catering, hair and makeup, and stationary. Keep reading to learn the distinguished options you have at your disposal.
Musical Entertainment for Your Elegant Wedding in Toronto
No wedding would be complete without the right music to set the mood. Tie the Knot brings all of your wedding music options together in one place, including live bands, DJs, and audio-visual solutions.
The Toronto Jazz Collective also offers a variety of wedding music packages for your ceremony, cocktail hour, or reception. Be sure to check out these options so you can find the right musical artist—or artists—for your upscale wedding.
The Best Wedding Caterers in Toronto
Your venue may offer catering services, but that doesn't mean you shouldn't explore your options! From custom menu development to mixology and sommelier services, Elle Cuisine offers finely-tuned wedding catering experience in Toronto.
If you see the artistry in food and you want your wedding dishes to tell a story, check out KACE catering—they emphasize just how important food can be in drawing people together. Lastly, we can't not mention Toben Food by Design. Reading their wedding catering menu full of fresh, local cuisine was enough to leave these Toronto wedding photographers salivating.
Stunning Stationery for Your Luxe Wedding
From invites to seating charts and signs, there is a lot more involved in getting the right stationery than you might think. Laywine's is the perfect place to pop into or shop online for exquisite stationery that meets your needs.
If you're keen on receiving a more personalized experience, The Paper Boutique is the perfect place to look. Booking a consultation is the first step to narrowing down the textures, colours, and styles to design your custom wedding stationery.
Professionals to Perfect Your Wedding Hair and Makeup
Putting your bridal hair and makeup in the hands of trusted professionals will bring you a greater sense of ease and confidence on your wedding day. Luxe Look brings your elegance and femininity to the forefront by highlighting your unique features. We highly recommend their services.
We also love L'une Beauty Boutique. They're an Exclusive Conceptual Beauty Boutique that offers every service you would need to look and feel magnificent on your wedding day.
For grooms in search of a top-quality hot shave or trim so they can look their best on their wedding day, look no further than Urban Philosophy. This men's grooming salon blends modern looks with old-school service so you feel truly taken care of. They also offer beard trims, hair colouring, and waxing services too.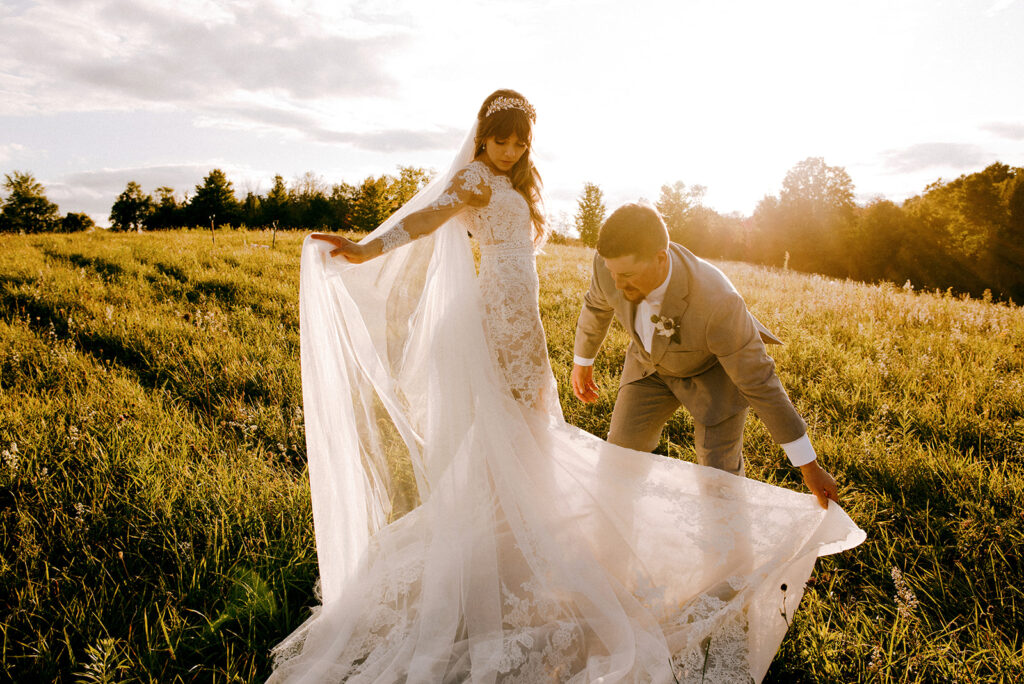 Stun Your Guests With Elegance at Your Luxury Wedding in Toronto
As Toronto Wedding Photographers, it's been our pleasure to guide you through some of the most incredible venues, dress designers and boutiques, catering options and more for your luxury wedding. We hope this helps you bring your vision to life.
Speaking of bringing your vision to life—are you looking for Toronto Wedding Photographers to document the special moments of your Toronto wedding? We'd love to connect about what you are looking for in your wedding photography so we can see if we're the right fit. Contact us today so we can start discussing the details. We look forward to meeting you.